Tibetan Medical and Astro Institute, Darchen, West Tibet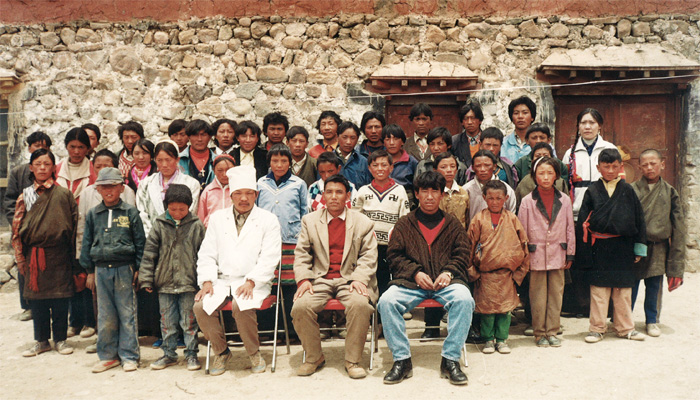 First Batch of Students at the Institute, now most of them working as Medical Doctors in West Tibet
The Institute was established in 1995 under the sponsorship and guidance of the Tibetan Ngari Korsum Association Switzerland. It was further developped and enlarged in several steps to its present stage.
In February 2011 the authorities in Westtibet unexpectedly informed us that our suppert for the Institute is to be stopped and that it is handed over to a Chinese foundation. We had no alternative than to accept.
As we have been informed by visitors the Institue is fortunately so far maintained by the foundation at the same level. We hope that it will continue to contribute to education, healthcare and environmental protection in one of the poorest regions of Tibet.
Location
The Institute is located in Darchen, a small village at 4700m altitude. The village lies at the foot of sacred Mount Kailash, and is an often frequented starting point for its ritual circumambulation.
1: Tibetan Medical School Mt. Kailash
2: Tibetan Medical Clinic Mt. Kailash
3: Tibetan Medical Factory Mt. Kailash
4: Ngari International Library
Mount Kailash and the Village Darchen
Mount Kailash, Gang Rimpoche for the Tibetans, with an altitude of 6714m, is sacred to Buddhists, Hindus, Jains and Bonpos. It is venerated as the throne of the gods and as the center of the universe. About 13,000 pilgrims flock every year to Mount Kailash and circumambulate it, following a centuries old ritual. Starting point for the 54km long trek is the village Darchen, lieing at the south side of the mountain.

Mount Kailash is located in Ngari Prefecture of Tibet (Western Tibet). Ngari is the poorest and highest altitude region of Tibet.