News
Rundbrief (Yearly Report) 20, 2018, Tibetan Ngari Korsum Association Switzerland
The yearly report 20, 2018, you will find here or you can download it at the archive. Unfortunately it is so far only available in german.
Supervision Visit 2018 at the Kailash Hostel Phuntsokling
Our sponsorship coordinator Konchok Chugstang visited the Kailash Hostel in September to obtain an accurate picture of the current situation at the hostel. The supervision of a correct use of your generous donations is always of utmost importance to us.
For a week, Konchok Chugtsang worked with the students, supervisors, and school teachers to fully understand the situation at the hostel and to make any necessary improvements.
The following points were essential:
Students should be able to spend their five important years at the Kailash hostel in a peaceful and loving atmosphere.
Furthermore, a healthy balanced diet for the students is important to us.
The students should have enough free time for sports and games, undisturbed space for self-study and homework.
Another goal of the visit was to inspire and motivate students to learning and further training.
| | | |
| --- | --- | --- |
| Going to School | Lunchtime | Planting of Trees |
All in all, the visit made it very clear how happy the students are at Kailash hostel.
Development and Improvements in the School System
There was a big change this year in the administration of the school attended by the students of the Kailash hostel. So far the school was known as "Central Tibetan School" and was operated by the Indian Government. Most of the teachers and administrators were Indians. In May this year, after several years of negotiations, the school was now handed over to the Sambhota Tibetan School Society under the Education Department of the Central Tibetan Administration, Dharamsala. Almost all teachers are Tibetans, mostly young and very motivated.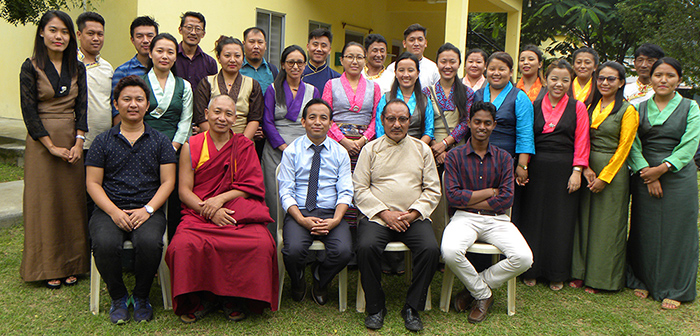 We see great opportunities to work closely with the teachers of the Sambhota Tibetan School for facilities such as library, computer equipment, games and sports, special care for weaker students and support for highly skilled students.
We have already noticed a clear change in the motivation of the students. We therefore see a bright future for talented and diligent students. The change is very encouraging.
Kailash Hostel Phuntsokling, Visit by our Sponsor Sylvia Billich in January 2017
Mrs. Sylvia Billich from Hilden / Germany has been supporting the Kailash projects for many years, mainly through sponsorships. It is very important for her to get to know her "children" personally.
In January this year she therefore visited her godson at Phuntsokling in Odisha / India. She wrote a very interesting report about her journey there and her stay at Kailash Internat Phuntsokling.

Please find her report here (in German).
Mrs. Sylvia Billich had already supported our project at Darchen. She also visited her godchild there:
We are so grateful to her for her long-standing and always so generous support!